Before the Laguiole knife ...
Before the development of the Laguiole knife around 1830's the "Capuchadou" was the everyday knife of the shepherds and farmers of the Southern Auvergne and Aubrac regions of France. This rural knife had a fixed blade and a long drawn point and was made of thick steel. A letter written in 1890 by the Mayor of the village of Laguiole says that " a very popular knife used in this region is called Capajadou, and everyone likes it because of it's convenience". Since 2011, Fontenille-Pataud workshop produce for you this ancestor of the Laguiole knife with the excellence of its production.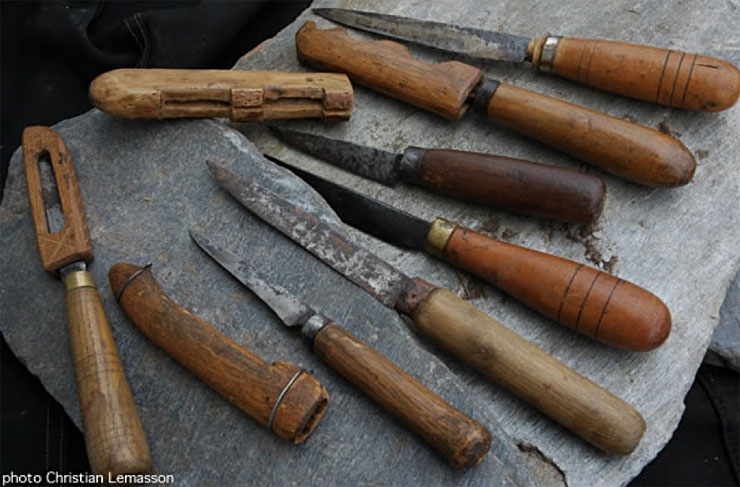 Lieutadès - France.
Lieutadès is a picturesque village located 900m above sea level on the slopes of Aubrac, in the Southern Auvergne region of France. 

Its inhabitants are nicknamed "Capujadous", which comes from the Southern French dialect and means "to cut". Many years ago, during the long winter evenings the local men would carve the pegs needed to secure the stone roof tiles that are used throughout the region.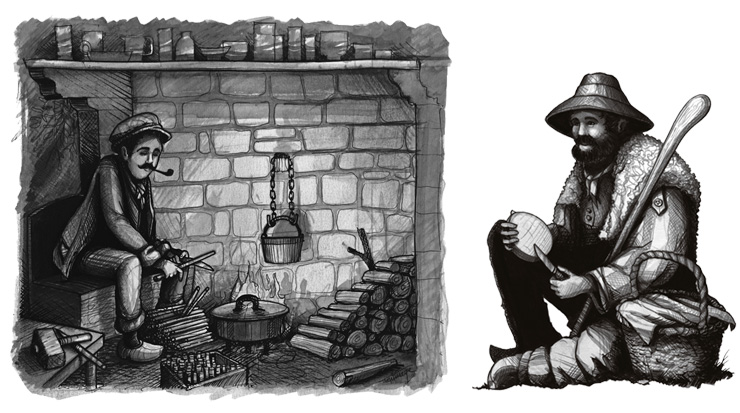 They cut so many pegs that the "Capujadou" nickname stayed with the villagers !..
1998: Design of a legendary knife
Richard Sossler is a talented creator. He observes the past and present and blends them into his designs. His design of the Capuchadou knife sits well in the hand thanks to it's curvature which was inspired by the crook of the shepherds stick used by the men of the Central Massif and by many of the Pilgrims that walked on St. James's Way.
After meeting Robert Beillonnet, who has been awarded the Best Cutlery Craftman in France on two seperate occasions, he created and elegantly shaped the Capuchadou knife featuring a slim but powerful blade and a forged spring that is enhanced with a shamrock emblem as a tribute to the 19th century Laguiole knife.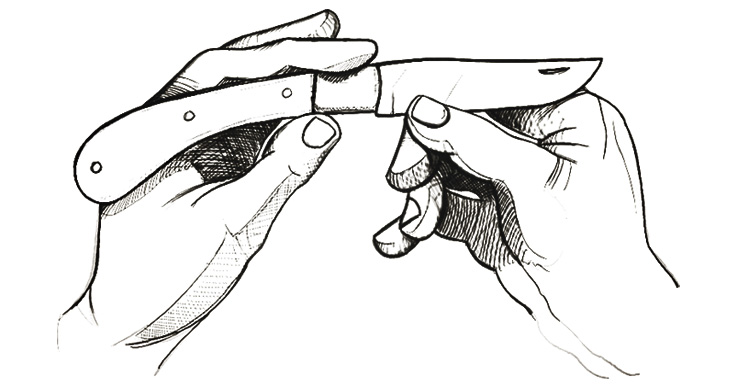 2011: The second wind

Letter from Richard Sossler clients and friends at the time of transmission:

"Dear Friends,

As you know, it's been a while that I wanted to retire.

I especially wanted to sustain my knives, finding a truly Cutler that makes in the country and is able to ensure continuity of production as you like it.

It is true that lately I have been asked by various houses cutlery. The know-how, competence, awareness has been well established decisive criterias ... with a little more significant: Friendship.

That's why I decided to pass on my brands, models and my website www.capuchadou.fr to Fontenille  Pataud, led by Gilles Steinberg which I've known for a long time. I must even admit that there a good ten years, my modest production was not sufficient to "boil the pot" - I opted signed Gilles® knives for sale to the guns and knives shops. I did not make this choice lightly. I never had to regret this period of my life. I even remember that we did together a superb special series "Capuchadou – the first Laguiole"

Gilles Steinberg is an awarded Master Craftsman. The company Fontenille Pataud is Labelled "Living Heritage Company".  Gilles Companions and Apprentices are young people who are passionate about knife making.

I thank you all very much for supporting my knives and for your friendship you have shown me during these many years, and you can refer and trust my friend Gilles, you will not be disappointed. "