FAQ
What's your delivery time?
Pocket knives: Our Capuchadou knives are mainly made to order, which implies a delay of about 4 weeks from the date of order for a knife without customization option.
For an order with a customization option (engraving...) you will need to count on about one week more, that is to say 5 weeks as from the date of order.

If the order has an urgent character with a deadline (birthday...), do not hesitate to inform us in the part provided for this purpose when finalizing your order (the comment area is available at step 3 of the validation of the cart).

Your order will be shipped as soon as the finishing stage is completed.
You can track the status of your order in the "My Orders" tab of your account.
---
The Fontenille-Pataud Commitment
We take great pride in our work. Our knives are handcrafted in Thiers, France.  Thiers has been the hub of French cutlery and knives for more than 600 years. Each knife is crafted by a small team of men and women. These artisans have earned their degree from the oldest cutlery school in Thiers.
This honored tradition is embedded in our business practice. Each year we hire a new apprentice. This young person works three weeks in our firm, then one week at the cutlery school. This process continues for two years, until the degree is earned.
---
How can I decide the size of my knife?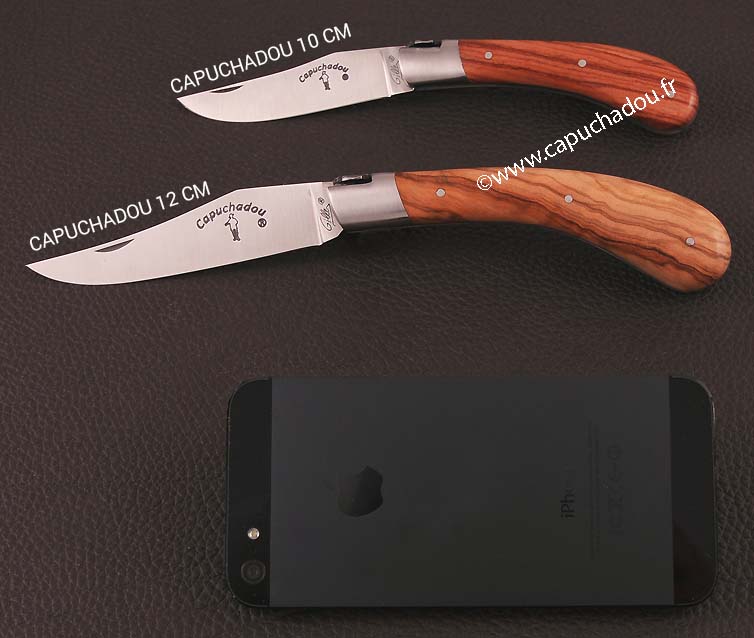 ---
What's about the "Guilloché" range?
The "guillochage" is the name for the file work. All of our Laguiole knives are made with a forged "bee" spring featuring a file work. But the « Guilloché » range is superior : in addition of the spring file work, the liners and the top of the blade are chiseled as well.
---
What is your guarantee policy?
The quality of our workmanship and careful selection of materials allows us to guarantee* our Laguiole, Thiers, Corsican and other French folding knives against all manufacturing defects in normal use. "Normal use" is defined as a knife made exclusively for cutting common materials. It also applies to the normal use and care defined within the product description. Folding knives are NOT dishwasher safe.
Our guarantee is a product warranty.  It guarantees against any product defect due to material or workmanship. Shipping and handling are the responsibility of the purchaser and selected carrier.
---
What's your delivery time?
Cutlery and Canteens of cutlery : approx. 1 week.
Pocket knives : several days, except in the case of personalized knives (2 -3 weeks). Feel free to use the comment section of the order form, providing us your deadline or writing URGENT ORDER. We do understand and take care of your deadline.
---
What sort of steel should I chose for my blade?
For a classic and easy use, we recommend the 12c27 or 14C28N stainless steel. Hardness : 56/58 HRC
For a superior performance, we offer RWL34. That Swedish steel is nowadays the best European (powder metallurgy) stainless steel for knives blades. Hardness  60/61 HRC
The XC75 carbon steel is not stainless. The blade gets dark by the time. It is appropriate for those who look for the good old fashioned knives style. Very easy to sharpen, it is "our grand fathers" steel.
Lastly, there the Damascus steels. Damascus steels are for the knife maker what gold is for the jeweler.
IMPORTANT: We have chosen to manufacture our Damascus blades with Damascus stainless steel bars sourced at Damasteel®. Given its expense, the Damascus steel is expected to retain its beauty through the years : this is what we do guarantee. 
A carbon steel Damascus is more "traditional" although it would lose the visible patterns through time. It can also rust if not wiped with some regularity. This is why we prefer to manufacture stainless steel instead of carbon steel Damascus.
---
How should I maintain and sharpen my knife?



Most of our knives do not require any maintenance because of their excellent stainless steel structure. That said, a drop of oil into the mechanism will help. The elderly would recommend "never wash a knife; just wipe it". Please respect the knife! The pocket knife is a precision instrument : It is not dishwasher safe !
For sharpening, we recommend our local fellow manufacturer and distributor Fischer and their sharpening product line. There are many way to sharpen a blade although there is one golden trick: remember to sharpen the blade BEFORE it becomes blunt !