"Le Capuchadou® Guilloché" 12 cm Corkscrew, Dark ram horn
"Le Capuchadou® Guilloché" 12 cm Corkscrew, Dark ram horn - CAP12TBENTG
Fontenille Pataud, the makers of the finest cutlery are proud to reissue and interpret the ancestor of the Laguiole knife. Their excellence in manufacturing will ensure that this knife will prove to be the perfect gift or purchase for all connoisseurs and collectors.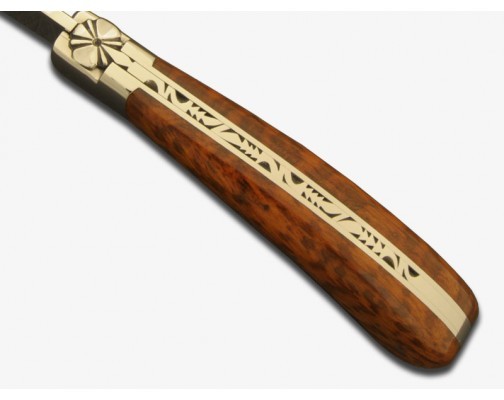 Hand chiseled and forged spring
The bee is solid and forged into the spring. The spring and bee are then hand-chased with a file : This denotes artisan quality, unlike inexpensive mass market products that have welded springs and are machine decorated.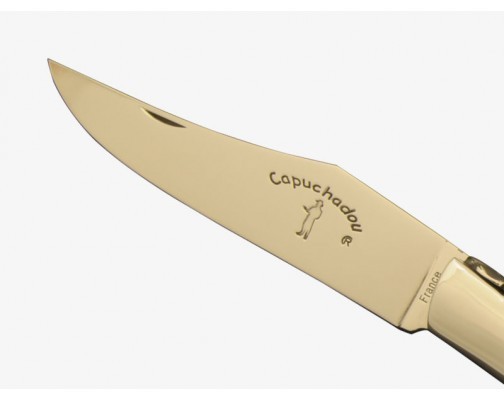 12C27 Stainless steel blade
The beauty of your blade is guarenteed for lifetime. We also offer a 60Hrc hardenned special RWL34 swedish powder stainless steel for those who love knives with a longer sharp edge.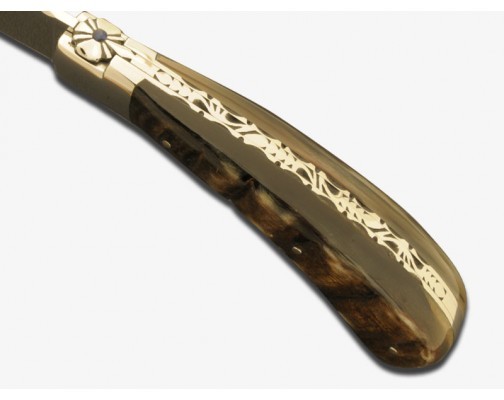 The "GUILLOCHE" pattern is our premium range
The "GUILLOCHE" pattern is our premium range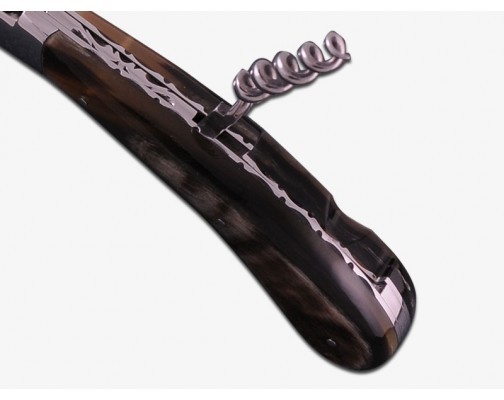 5 rings worm corkscew
The thin and tapered corkscrew "worm" opens easily. It is easy to use and does not swell the cork excessively.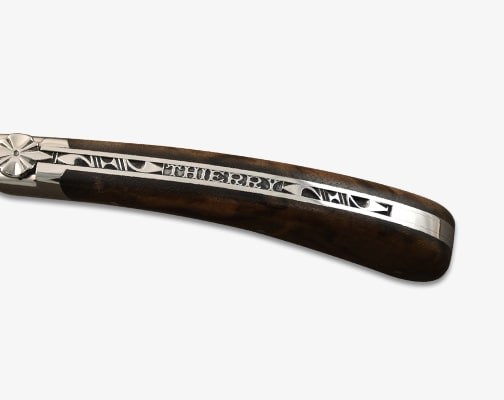 Customize your knife
Our specialty: Personalize your knife (first name, initials, date...) with a beautiful engraving of the spring produced by a professional engraver. The engraving is performed before the file work (guillochage) and the heat treatment.
Avant le Laguiole était le Capuchadou
Avant la venue du Laguiole, l'Aubrac avait déjà un couteau nommé le "Capuchadou", qui lui était propre. Les paysans d'autrefois s'en servait pour toutes les tâches quotidiennes, du repas au soin des bêtes en passant par leur propre défense.
L'atelier Fontenille Pataud, réédite et réinterprète pour vous cet ancêtre du Laguiole et vous fait bénéficier de l'excellence de sa production.
L'excellence de la fabrication des capuchadou associée à un choix d'accessoires haut de gamme font de ce couteau un cadeau de connaisseur à faire ou à se faire.
Technical details
The "Guilloché" pattern is our premium range: the spring is inlayed with a Natural gemstone, and you will take advantage of an extra file work on the plates and the blade's top. 
Size and weight : 12 cm folded,  21 cm open, approx. 120 grams
Handle : Dark Ram horn bark, taken from the outside part of the horn. Natural and stunning looking.
Blade : Stainless swedish 12C27 steel, 3 mm thick. Hardness: 56 Hrc.
Tecnical tips : The spring is made from 3 mm thick stainless steel Z20c13 and features a bladestop : That helps maintain the edge of the blade. The whole "shamrock" spring is hand-chased with a file: This denotes artisan quality, unlike mass market products that have welded springs and are machine decorated. The file work and these details create a unique knife, making each knife one of a kind. 
Included : Numbered Guarantee certificate, leather pouch.
Dear Cecile,
Please be advised that,
my order had well rec'd in Hong Kong. Many thanks and appreciated to your kind assistance in let me have these commodities so fast,
so that my Magnum could have cloth right now.
K. Rgds,
Philip (Hong Kong)
Hi Yann, Just wanted to send you a note to let you know how great these two corkscrews look.
I'm certain my friends are going to love their birthday gifts.
Best,
Adam (USA)
Bonjour Yann,
now we are proud owners of Le Chamois, 2x Le Capuchadou and Magnum.
With best regards from Germany
Regina D. (Germany)
Free Shipping
Take avantage of free shipping on our Capuchadou® knives range.
Lifetime Guarentee
The quality of our manufacturing enables us to give you a lifetime manufacturer's guarantee.
Support
We shipped our knives worldwide since 1999.
100% Handmade in France
Fontenille Pataud was founded in 1929 and quickly became recognized as a manufacturer of high-end knives.